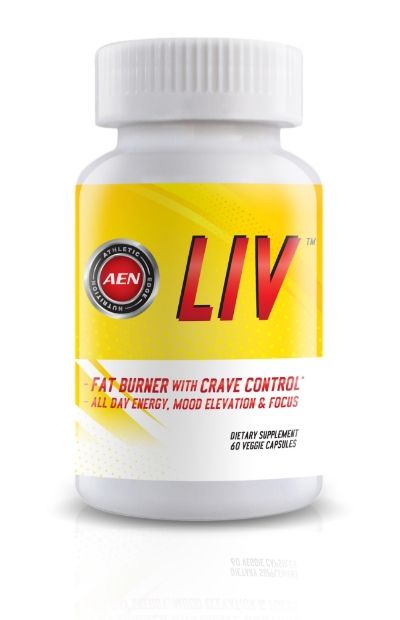 What is LIV?
Fat Burner with Crave Control

All Day Energy, Mood Elevation & Focus
Key Benefits
• Shown in research to decrease the drop-out rate of individuals on low calorie diet protocols
• Suppresses appetite so caloric intake can be reduced
• Reduces diet psychological stress and minimizes mood changes often experienced with dieting
• Powerful all day energy, mood elevation and focus
• Further enhance the fat burning process of exercise (via inhibiting alpha2 receptors)
• Great as a pre-workout energy/focus enhancer
PhosphoLean- N-Oleoyl-PE + EGCG
• PhosphoLean® N-Oleoyl-PE + EGCG (NOPE + EGCG) is the "next generation" nutritional supplement compound for advanced appetite control and weight management. PhosphoLean® NOPE + EGCG is a safe, natural, and effective nutritional supplement compound that can help individuals manage their ideal body weight.
• Recent research involving the manipulation of appetite has shown that suppressing appetite and thus reducing the intake of food is an effective means to controlling both energy balance and body weight. Since appetite suppression is a major controlling point for energy (food) intake, managing appetite is crucial in controlling healthy body weight, especially when combined with health conscious lifestyle choices that include attention to proper food intake, dietary supplementation, and exercise.
• Under the severe stress levels experienced during dieting, studies have shown that PhosphoLean® NOPE + EGCG can effectively help individuals manage the daily stress of their calorie reduced diets and help them stay on diets for longer periods of time. Only this will lead to long-term diet success.
Highest dosed PhosphoLean product on the Market!
Theanine
Stimulates alpha wave activity in the brain and has been shown when combined with caffeine to be highly beneficial in improving alertness during demanding tasks. As an additional benefit, Theanine has been shown in research to accelerate mental regeneration after exercise and reduce the negative side effects of caffeine. The perfect supplement to combat diet and exercise induced neurological burnout that frequently occurs when dieting and training hard
Green Coffee Extract
New research has identified a compound called chlorogenic acid which is believed to be responsible for green coffee's ability to support fat loss and promote healthy blood sugar levels already in healthy range.* During the coffee bean roasting process, much of this beneficial chlorogenic acid is broken down and greatly reduced. LIV uses just the purest non GMO unroasted coffee beans, containing 50% of chlorogenic acid.
Caffeine
Dendrobium Extract
A key component factor of LIV's formula responsible for:
• Powerful mental focus
• Sense of well being
• Energy boost
This Chinese extract is standardized for the component Dendrobine - believed to stimulate the release of norepinephrine, epinephrine and dopamine.
Neuravena
A developed specialized wild green oat extract, that concentrates specific constituents of the plant that have been shown in research to boost the neurotransmitter dopamine and have a positive impact on stress resistance. The overall benefit is greater alertness, energy and focus, while stabilizing stress levels. By including Neuravena, we further enhance the end users optimal mental state needed to assist them throughout their day as they progress through their chosen diet protocol
Rauwolfia vomitoria (standardized for alpha-yohimbine)
We have included the highest standardized extract for alpha-yohimbine currently available.
Unlike typical yohimbe extracts or yohimbine HCL, which impact both alpha and beta-andrenergic receptors, alpha yohimbine used in LIV is much more specific and works predominantly as an alpha2 receptor antagonist.
The benefit of alpha-yohimbine's specificity as an antagonist to the alpha2 receptors are as follows:
• Our bodies fat cells (specifically in the subcutaneous fat tissue) have a much higher number of alpha 2 receptors compared to beta receptors.
• Alpha2 receptors when activated, blunt/decrease the fat burning process.
• By blocking these alpha2 receptors with alpha-yohimbine, you allow your body to burn fat more effectively. This receptor specificity, allows alpha-yohimbine to have a much stronger fat burning affect than common yohimbe extracts or yohimbine HCL.
In addition, alpha-yohimbine exhibits far fewer negatives side effects often experienced with typical yohimbe. Some of these negatives, are increased heart rate, blood pressure that is brought about through powerful stimulation of the beta receptors that typical yohimbe extracts or yohimbine HCL stimulate.