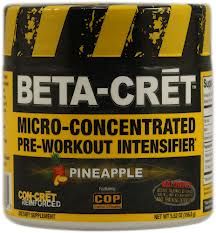 To purchase click
HERE
:
Product Description
Powerful Concentrated Pre-workout Intensifier
It only takes 4.3 grams of this concentrated formula to raise carnosine levels which will lead to increased performance and muscle gains. BETA-CRET will benefit your body by raising phosphatocreatine levels, fight off the buildup of lactic acid, and buffer hydrogen ions while training.
BETA-CRET has only 125mg of caffeine, but it also is combined with COP (Creatinol-O-Phosphate). 500 mg of BETA-CRET will give you the focus and concentration that is needed in the gym to push your body to the max.
One serving of BETA-CRET before you workout is all you need. Stack with CON-CRET for even more energy. We advise you to look over all of the ingredients contained in this product because some of them may be banned by certain sport organizations. Therefore we suggest that you review your sports banned substance list and compare to the ingredients in BETA-CRET.
Supplement Facts
Serving Size: 1 Scoop (4.35 Grams)
Servings Per Container: 8
Amount Per Serving
Vitamin B-6 (As Pyridoxine) - 2mg 100%
Niacin - 25mg 125%
Folic Acid - 200mcg 50%
Proprietary Blend -
4,030mg Taurine, Beta-Alanine (CarnoSyn®), Creatine HCL (CON-CRET®), Creatinol-O-Phosphate, L-Tyrosine, Caffeine Anhydrous (125 Mg), L-Histidine, N-Acetyl-L-Tyrosine
Other Ingredients:
Pineapple Natural & Artificial Flavoring, Maltodextrin, Sucralose, Vanilla N&A, Silicon Dioxide, FD&C Yellow #5
Directions
Take 1 Scoop 20-30 minutes prior to workout
* No claims found on this web page or in print have been evaluated by the Food and Drug Administration. This product is not intended to diagnose, treat, cure, or prevent any disease. No claim or opinion about weight loss, bodybuilding or general health on this web page is intended to be, nor should be construed to be, medical advice. Please consult with a healthcare professional before starting any weight loss diet or exercise program.